Step 1: Register
1. Go outdoors and rotate the antenna on the IsatPhone 2 so it is pointing at the sky.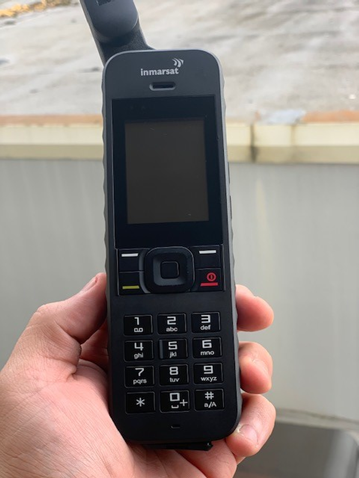 2. Face towards the antenna in the general direction of the Equator (Within the US, this is generally south).
3. Power on the IsatPhone by pressing the red button.
4. After the initial startup sequence, the handset will display signal in the upper left hand corner of the screen and begin to register to the network.
5. The display will Ready for service once registration has completed.
Note: Inmarsat satellites are geostationary and do not change location. The satellites are positioned across the Equator therefore you will need to ensure you are facing the satellite from your region. If you do not face the right direction you will not register to the network. The signal indicator will show bars, if it does not, turn 90 degrees to the right and continue doing so until you have achieved signal gain.
Step 2: Place a call
Note: All calls from the IsatPhone 2 are dialed the same, no matter the location.
1. Press and hold the 0 key until + appears on the display. This is the international dialing prefix shortcut for 00. It is used before all calls to landline, cellular, or satellite phone numbers.
2. Dial the country code, area code and phone number. The country code for the United States and Canada is 1. You may search for country codes at https://countrycode.org/.
Example: + (country code)(area code/city code)(phone number)
Example: + 1 206 329 1947
4. Press the Green key to start the call.
Note: You may dial 00 in place of the +, however entering both will cause a dialing error.